Conservatism
Welcome to the basket!
Scott Baio stands with Trump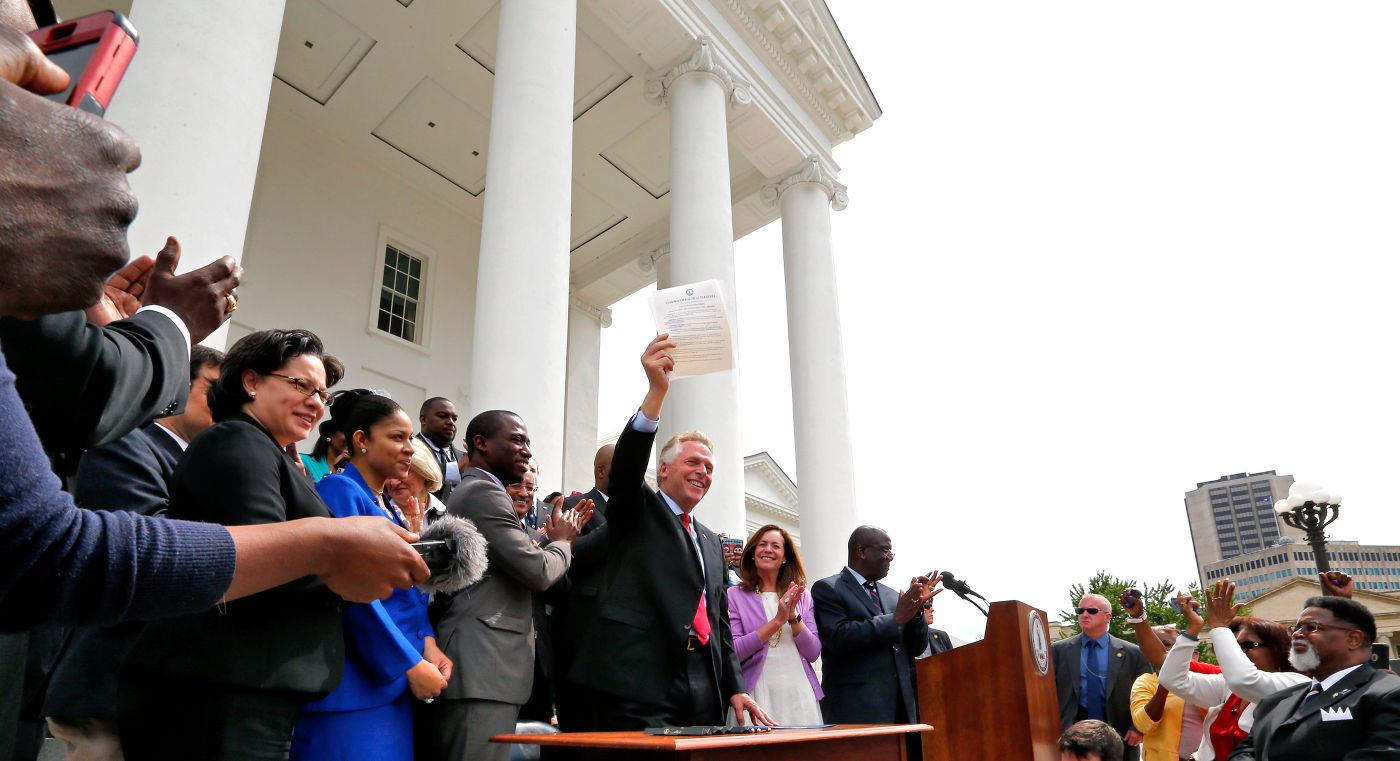 When VA Governor Terry McAuliffe restored the voting rights to felons across the state it took both elected officials and voting registrars by surprise. Not so the left wing "get out the vote" activists, who were privy to the plan and hit the ground running in order to sign convicted felons up to vote Democrat as soon as the decree went out.
Voter registrars throughout the state, including Petersburg's Dawn Williams, learned of the order through media reports published as McAuliffe made the announcement on the steps of the Capitol.
"We had no forewarning at all," Williams said. "In essence, registrars across the commonwealth had no further notice than anyone else. Our concerns were how the process was going to be handled."
Emails obtained by the Richmond-Times Dispatch through a Freedom of Information Act request show the McAuliffe administration planning for the announcement by inviting rights-restoration advocates and political allies.
But the communications yielded little in the way of evidence of advance planning or consultation with the voter registrars, prosecutors or other officials who would deal with the mechanics of the order and its ramifications.
The administration refused to release hundreds of communications related to the order, citing, among other justifications, a broad exemption in state open-records law for executive working papers.
McAuliffe's rights-restoration order has become a political flashpoint, infuriating Republicans who have filed a lawsuit arguing that he lacked the legal authority to issue a blanket order and who also accuse the governor of attempting to stack the deck for presumptive Democratic presidential nominee Hillary Clinton in November.
more from the Richmond Times-Dispatch
DONALD J. TRUMP STATEMENT REGARDING TRAGIC TERRORIST ATTACK IN ORLANDO, FLORID
Last night, our nation was attacked by a radical Islamic terrorist. It was the worst terrorist attack on our soil since 9/11, and the second of its kind in 6 months. My deepest sympathy and support goes out to the victims, the wounded, and their families. In his remarks today, President Obama disgracefully refused to even say the words 'Radical Islam'. For that reason alone, he should step down. If Hillary Clinton, after this attack, still cannot say the two words 'Radical Islam' she should get out of this race for the Presidency. If we do not get tough and smart real fast, we are not going to have a country anymore. Because our leaders are weak, I said this was going to happen – and it is only going to get worse. I am trying to save lives and prevent the next terrorist attack.
We can't afford to be politically correct anymore. The terrorist, Omar Mir Saddique Mateen, is the son of an immigrant from Afghanistan who openly published his support for the Afghanistani Taliban and even tried to run for President of Afghanistan. According to Pew, 99% of people in Afghanistan support oppressive Sharia Law.
We admit more than 100,000 lifetime migrants from the Middle East each year. Since 9/11, hundreds of migrants and their children have been implicated in terrorism in the United States. Hillary Clinton wants to dramatically increase admissions from the Middle East, bringing in many hundreds of thousands during a first term – and we will have no way to screen them, pay for them, or prevent the second generation from radicalizing.
We need to protect all Americans, of all backgrounds and all beliefs, from Radical Islamic Terrorism – which has no place in an open and tolerant society. Radical Islam advocates hate for women, gays, Jews, Christians and all Americans. I am going to be a President for all Americans, and I am going to protect and defend all Americans.
We are going to make America safe again and great again for everyone.
– Donald J. Trump
Ladies and gentlemen, The next president of the Unites States:
https://www.youtube.com/watch?v=nO7GAbBoIF0
So because Democrat activists love children so much, they organized a protest against people on the way to the trump appearance in California.  At least they didn't put the kiddies out in traffic like they do at some of these agitations.
DONALD J. TRUMP RESPONSE TO CRUZ AND KASICH CAMPAIGNS
It is sad that two grown politicians have to collude against one person who has only been a politician for ten months in order to try and stop that person from getting the Republican nomination.
Senator Cruz has done very poorly and after his New York performance, which was a total disaster, he is in free fall and as everyone has seen, he does not react well under pressure. Also, approximately 80% of the Republican Party is against him. Governor Kasich, who has only won 1 state out of 41, in other words, he is 1 for 41 and he is not even doing as well as other candidates who could have stubbornly stayed in the race like him but chose not to do so. Marco Rubio, as an example, has more delegates than Kasich and yet suspended his campaign one month ago. Others, likewise, have done much better than Kasich, who would get slaughtered by Hillary Clinton once the negative ads against him begin. 85% of Republican voters are against Kasich.
Collusion is often illegal in many other industries and yet these two Washington insiders have had to revert to collusion in order to stay alive. They are mathematically dead and this act only shows, as puppets of donors and special interests, how truly weak they and their campaigns are. I have brought millions of voters into the Republican primary system and have received many millions of votes more than Cruz or Kasich. Additionally, I am far ahead of both candidates with delegates and would be receiving in excess of 60% of the vote except for the fact that there were so many candidates running against me.
Because of me, everyone now sees that the Republican primary system is totally rigged. When two candidates who have no path to victory get together to stop a candidate who is expanding the party by millions of voters, (all of whom will drop out if I am not in the race) it is yet another example of everything that is wrong in Washington and our political system. This horrible act of desperation, from two campaigns who have totally failed, makes me even more determined, for the good of the Republican Party and our country, to prevail!
You are known by the company you keep. Or president and his State dept heads have had some real nice travels over the years and made some really interesting friends:
CUBA- PRESIDENT OBAMA AND RAUL CASTRO BASEBALL GAME
March 22, 2016
(Image Credit: Daily Mail AFP Wire AFP Photo/Yamil Lage )
PRESIDENT OBAMA IN CUBA
March 21, 2016
(Image Credit: AP Photo/Dennis Rivera )
SYRIA- JOHN KERRY AND BASHAR AL ASSAD DINNER
February 21, 2009
(Image Credit: Breitbart)
IRAN- JOHN KERRY AND MOHAMMAD ZARIF AND THE IRAN NUCLEAR DEAL
January 14, 2015
(Image Credit: Times Of Israel AFP Wire AFP/POOL/RICK WILKING)
RUSSIA- HILLARY CLINTON AND SERGEI LAVROV AND THE RUSSIAN"RESET"
March 6, 2009
(Image Credit: Getty Images)
VENEZUELA- OBAMA-CLINTON AND VENEZUELAN PRESIDENTS HUGO CHAVEZ AND NICOLAS MADURO
January 7, 2011
(Image Credit: Agencies)
April 14, 2012
​
(Image Credit: EPA)
LIBYA- OBAMA-CLINTON AND MOAMMAR GADHAFFI
July 9, 2009
(Image Credit: Agencies)
April 21, 2009
(Mutassim Gadhaffi, Son Of Moammar Gadhaffi: Executed Alongside Moammar Gadhaffi In 2011)
(Image Credit: Alex Wong/Getty Images)
Today Jerry Kilgore and John Hager, both Republicans who ran for Governor and lost, delivered the petition signatures necessary for Jeb Bush to be on the Virginia Republican primary ballot on March 1st, 2016.
There is a reason that the establishment has been failing. We the people want conservative representatives and not corporate sponsored "rulers". The time of the fat cat politician who answers to the big money donors is coming to an end. Fiscal responsibility is needed and with exposure through the internet we now can point out the crooks and cronies that do not need to be left alone with our nation's money.
Jeb is just trying to keep control out of the hands of the people and that's not good.

The shocking revelations From Dr. Ben Carson's staff tell all!
This is so much better than anything the leftists have come up with to try and make him look bad.